Bowl Level Control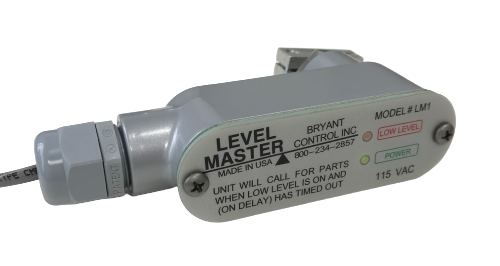 The Level Master is much more than a level switch. It is a level "control" designed specifically for the vibratory feeding industry. It utilizes the same familiar paddle and rotating shaft used in the feeding industry for years – yet eliminates all of the old limit switch headaches.
All of these features in a control designed for the Automation Industry that COSTS LESS than the limit switch you are currently using. Our knowledgeable and courteous staff can provide you with the level control you need, when you need it.
STANDARD FEATURES

LEVEL MASTER

LIMIT

SWITCH

Uses industry standard paddle for part sensing.

YES

YES

Zero shaft breakover force required to activate switch.

YES
NO

Indicators for power and low part level.

YES
NO

Adjustable dual on/off delay to reduce hopper cycling.

YES
NO

Two sets of NC/NO contacts, for control and information.

YES
NO

LED indicators, prewired 8ft cable, ready to mount.

YES
NO
Level Master Specifications
Important note about relay contacts.
NOTE!!!
Output for Low Level Current Only, NOT designed to switch Coil Current
Wiring connections