Standard Features:
NEMA 12 &13 Rating
Optional NEMA 4 & 4X
Full Wave / Half Wave Switch Selectable
Enable Input
50/60 Hz
OEM Pricing Available
Call for Sensing Options
Call for Custom Configurations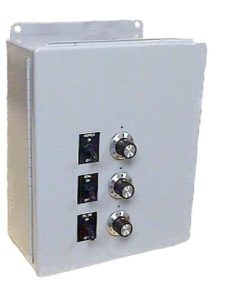 3GA Shown
120 Volt Single 15Amp: 1GA-15A Feeder Control
120 Volt Dual 15Amp: 2GA-BH Bowl Hopper, 2GA-BI Bowl Inline
120 Volt Triple 15Amp: 3GA Bowl Hopper Inline
240 Volt Single 15Amp: 1GF-15A Feeder Control
240 Volt Dual 15Amp: 2GF-BH Bowl Hopper, 2GF-BI Bowl Inline
240 Volt Triple 15Amp: 3GF Bowl Hopper Inline
G-Series Data Sheets
The following G-series drawings / schematics must be viewed and printed with Adobe Acrobat.
Please check back often as this list will be updated on a regular basis.
115 Volt controls are in the top table, 230 Volt controls are in the lower table.
| | | | | |
| --- | --- | --- | --- | --- |
| 115VAC CONTROLS | NO OPTIONS | PHOTO- CONTROL (100 option) | DC TRACK SWITCH (300 option) | AC TRACK SWITCH (600 option) |
| NEMA 12&13 SINGLE (1GA) | FEEDER HOPPER BOWL INLINE | FEEDER HOPPER BOWL INLINE | FEEDER HOPPER BOWL INLINE | FEEDER HOPPER BOWL INLINE |
| NEMA 12&13 DUAL (2GAbh or 2GAbi) | BOWL- HOPPER BOWL- INLINE | BOWL- HOPPER BOWL- INLINE | BOWL- HOPPER BOWL- INLINE | BOWL- HOPPER BOWL- INLINE |
| NEMA 12&13 TRIPLE (3GA) | HOPPER- BOWL- INLINE | HOPPER- BOWL- INLINE | HOPPER- BOWL- INLINE | HOPPER- BOWL- INLINE |
| | | | | |
| --- | --- | --- | --- | --- |
| 230VAC CONTROLS | NO OPTIONS | PHOTO- CONTROL (100 option) | DC TRACK SWITCH (300 option) | AC TRACK SWITCH (600 option) |
| NEMA 12&13 SINGLE (1GF) | FEEDER HOPPER BOWL INLINE | FEEDER HOPPER BOWL INLINE | FEEDER HOPPER BOWL INLINE | FEEDER HOPPER BOWL INLINE |
| NEMA 12&13 DUAL (2GFbh or 2GFbi) | BOWL- HOPPER BOWL- INLINE | BOWL- HOPPER BOWL- INLINE | BOWL- HOPPER BOWL- INLINE | BOWL- HOPPER BOWL- INLINE |
| NEMA 12&13 TRIPLE (3GF) | HOPPER- BOWL- INLINE | HOPPER- BOWL- INLINE | HOPPER- BOWL- INLINE | HOPPER- BOWL- INLINE |